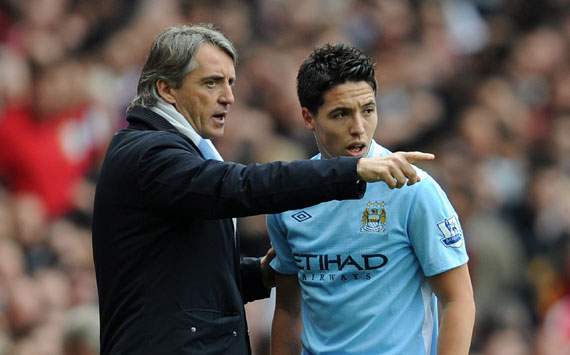 COMMENT
By Jack Gaughan at Etihad Stadium
Some signings, for whatever reason, simply do not work out. Unfortunately for Manchester Citys Samir Nasri, it is beginning to look like that is the case for him.
At his best, a nonchalant wizard, but at his worst, a non-existent passenger who as witnessed at the Etihad Stadium yesterday hinders more than helps. It is a rut Nasri has found himself in for long spells since his 24m move from Arsenal in 2011, and something that hasnt gone unnoticed, with manager Roberto Mancini stating before Saturdays 1-1 draw against Everton that the Frenchman must improve.
"In my opinion we are talking about a top, top player here. And if he wants he can change every game, the manager said. But I think he can do better. He has played some good games for us but he can do better because he has everything.
"I don't think he has struggled. When I say this, we are talking about a p layer like Nasri or [Yaya] Toure or [David] Silva, we always think they can change every game they play because they are capable of doing that."
That is very diplomatic from Mancini. With a January move for Malagas Isco, reported yesterday morning by
Goal.com
, on the horizon, Nasri could find himself surplus to requirements fairly sharpish.
The facts do tend to back up that prognosis. One Premier League goal since April and just two assists in that time paint a picture of a player operating on the periphery of a team so used to passing and probing in and around the opposition box. Mancinis way is tailor-made for attacking drifters to flourish. David Silva seems not to suffer the same problems as Nasri.
Without Silva between October 6 and November 11 Nasri started every match, yet failed to grasp a glaringly huge chance to become the premier playmaker during that period, flitting in and out of games.
This is a pla yer, lets not forget, who was nominated for the PFA Players Player of the year in 2011, months before he joined the club. But following a few early glimpses of magic and the odd important goal, the spark dissipated.
Against Everton, the 25-year-old made one contribution to the fixture throughout the 90 minutes: a one-two with Silva which may have resulted in something more during the latter stages. That was the only occasion Nasri sought to run beyond his strikers; too often he picked an easy square ball and wasnt bold or brave enough to risk making a mistake.
That is the behaviour of a man completely out of nick. It may take some time for him to rediscover the sort of form that lit up the Emirates not so long ago.
Somewhat surprisingly there were very few rumblings of discontent from the supporters about his abject performance, possibly because he did such an effective job of not getting involved that he went completely unnoticed.
Whatever the reason, City fans can be pleased that there were very few groans (they were largely aimed at Edin Dzeko) and it is only by playing games with encouragement that Nasri will improve.
Whether an entertainer on 170,000 a week should need goals cajoled from him is a different matter. It is whether he is afforded any more time by his manager that is the real question.
Follow Jack Gaughan on