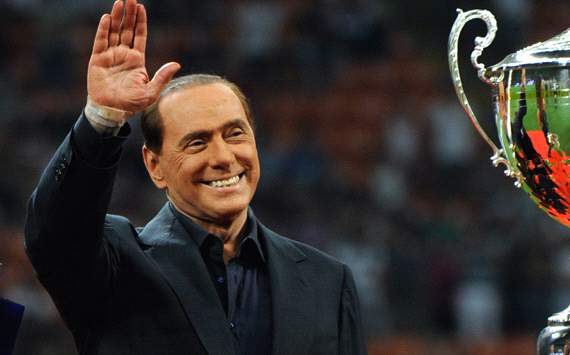 Silvio Berlusconi has stated that the success that AC Milan have enjoyed during his time at the club are unmatched in the game.
Since the Italian politician took charge of the
Rossoneri
in 1986, the club have won the Champions League on five occasions and a total of eight Serie titles.
"My experience as a president is still important, I'm the most successful one in footballing history," the 76-year-old told
La Gazzetta dello Sport
.
The president then went on to discuss possible reinforcements to the team for the second half of the 2012-13 campaign.
"Transfers? We will consider Milan's needs in January. We have to deal with [Nigel] De Jong's injury which is a shame. A present for our fans? We'll see."
Meanwhile, his daughter Barbara, who also works for the club, believes Milan are currently going through a period of transition and the future of the side lies in raising talented footballers rather t han signing big stars.
"The idea to cut costs is the only road to take," she told reporters. "Football doesn't like change, but there are times when decisions need to be made.
"Thats not to say that we cant buy champions, but our ideas are different. We want our youngsters to grow and we want to construct a side around them," she continued.
The 28-year-old then reflected on the loss of Zlatan Ibrahimovic, but insisted that the move was important for Stephan El Shaarewy's development.
"Lets say that we seized a good opportunity with this offer from PSG which was too good to refuse, she added.
"To lose a player of great quality is never ideal, but that's the way things are. One champion goes and we make another."
She then took the time to praise German giants Bayern Munich for their smart budgeting, and claimed that Paris Saint-Germain's current riches are nothing to aspire t o.
"We don't envy anyone. We're the club with the most titles of any in the world. Today, I only have admiration for clubs like Bayern Munich who have put in place a healthy economic model."