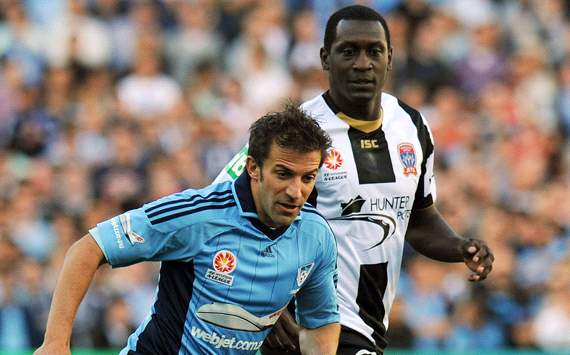 Alessandro Del Piero has rubbished talk that he could leave Sydney FC in January by committing his future to the club.
The 38-year-old penned a one-year contract worth 1.5 million with the Australian side in the summer after he opted to end his 19-year association with Juventus and has since scored five goals in 10 matches - one of which was crowned
Goal.com
's Goal of the Week.
However, his arrival has not impacted positively on Sydney's fortunes, with the team sinking to the bottom of the A-League after just three wins all season, leading to speculation that the forward may decide against extending his deal, but he claims this is not the case.
"Everything is clear for me and the club," Del Piero told reporters in Sydney on Wednesday. "I'm not finding [our recent slump] stressful. I want to put all of my knowledge and heart into matches.
"My brother [Stefano] talks about [the matter of m y contract]. It's his problem, not mine. I've had a really good time here.
"At the moment the best thing for me, the club, my team-mates and everyone here is to concentrate on the games ahead.
"We have to put all of our energy, mentally and physically, into games. I'm really enjoying it here. Now we have to win a couple of games for more enjoyment.
"We have to overcome this slump with heart, fight, pressure and a little luck."