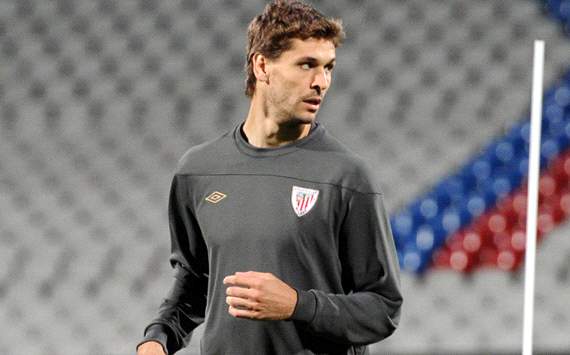 Athletic Bilbao forward Fernando Llorente has revealed that he will be leaving the Spanish club at the end of the current campaign after failing to agree a new deal with last season's Europa League finalists.
The Spain international has been linked with a move away from San Mames throughout 2012 after falling out with coach Marcelo Bielsa, with Juventus amongst the clubs who have been rumoured to be interested in the forward.
The 27-year-old is out of contract in June, and when he was questioned at a press conference as to whether he would be departing
Los Leones
in the summer, he said: "Yes. It's not about the money
and

I have not felt

blackmailed

by the

club.



"

Looking back at what has happened since I made my first appearance at San Mames

has made this a sad decision."

Llorente claimed that the press has not made the situation any easier for him due to the number of rumours about his future that have been circulating in the media, though he claimed that was not the reason for his decision.

He also thanked the club's fans and players for their support.

"

The press

has not helped

anything

.

They have

successfully increased the

bad environment

,

but

leaving the team

is

for other reasons

.





"I feel

loved by the fans

.

The players

are with me and

I reall y appreciate it

.

"

Despite explaining his desire to leave, the striker has reiterated that he wants to contribute for the remainder of the season, starting with their Europa League game against Sparta Prague on Thursday.

"

I want to

play

.

The atmosphere

will

be fantastic

,

but we must also

play our part

."