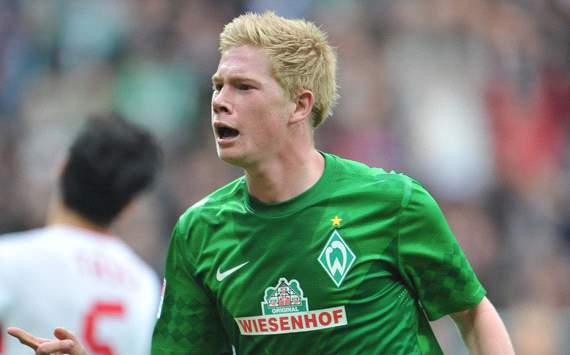 Kevin De Bruyne has made it clear that he will not necessarily return to Chelsea at the end of his current loan spell.
The 21-year-old is currently on loan at Werder Bremen as he seeks to gain first-team experience, and is due to rejoin the Blues at the end of the campaign.
However, the Belgian has stressed that his return to Stamford Bridge is by no means definite, adding that he would rather continue to play at a lower level than sit amongst the Chelsea substitutes.
He told
Bild
: "According to plan, I will return to Chelsea in the summer. But in football a lot of things change - very fast.
"That's like in the standings: One week you're in 12th place, then sixth place, then down again. You have to cope with new situations quickly. If Chelsea doesn't want me in the summer, you have to think about other options.
"It's difficult for me to sit on the bench. I know myself, I can't stand it. I want to play fo otball. If not with Chelsea, then one level below Chelsea.
"As a footballer you think about the next week, maybe two weeks ahead. But not about something about to happen in six months. I have to prove myself on the pitch. I give my best here und try to help Werder. That's my job. The rest will follow."
De Bruyne was quick to point out that he keeps a watchful eye on Chelsea's form, adding: "I follow the club with interest. Losses annoy me, victories make me happy."
The former Genk midfielder also believes that the appointment of Rafael Benitez has no impact on his own future, with the Spaniard currently only in charge on an interim basis.
"It doesn't change anything for me," said De Bruyne. "Last week I had a call with a Chelsea worker. Benitez seems to be a caretaker coach. For how long, it is not clear."