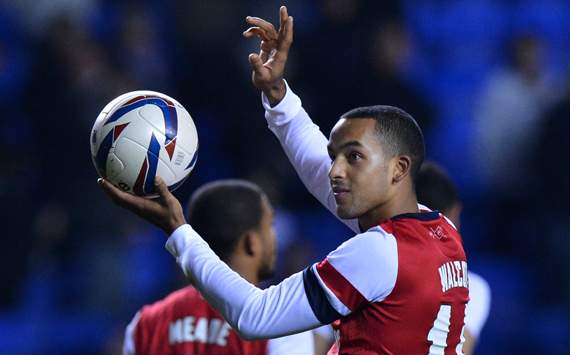 Arsene Wenger says he wants Theo Walcott's future at Arsenal sorted before Christmas, with the England international's contract set to run out at the end of the season.
The 23-year-old has seen his position in the team under threat thanks to the arrivals of Lukas Podolski and Olivier Giroud, as well as the re-emergence of Gervinho as a first-team regular.
Walcott has stated previously that he wants an opportunity in the centre of the team's attack - something promised to him by Wenger - but is free to talk to other teams in January if there is no change in circumstances.
Wenger told reporters: "There is urgency [in resolving his future]. I want it resolved by Christmas.
"He loves to score goals, he has good pace and makes intelligent runs. He is a good finisher."
Arsenal face a tough task this weekend with a trip to Old Trafford after their sensational 7-5 win over Reading in the Capital One Cup, and Wenger re vealed that they will have to continue to make do without key players Wojciech Szczesny, Kieran Gibbs, Abou Diaby and Gervinho.
He added: "For the belief of the team it is vital we do well on Saturday. Last year's result was down to special circumstances. We have had it behind us for a long time.
"Reading was an irrational game. It concerns me a little bit. When you are 4-0 down after 36 minutes you cannot say it is alright. Some of the players still have heavy legs. [There will be] no Wojciech [Szczesny], no Gibbs, no Diaby as well. Gervinho is out for three weeks.
"I will see how [Walcott] recovers, I don't know if he will play."