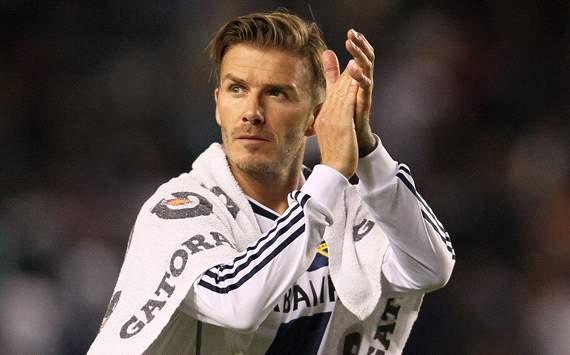 LA Galaxy midfielder David Beckham has refused to rule out a return to the Premier League after leaving the MLS side next month, admitting he has "options on the table".

The former England captain is set to bring an end to his six-year stay in America with his final appearance for the club as they seek to defend their crown in the MLS Cup final on December 1.

And, despite his past affiliation with Manchester United, Beckham has hinted at the possibility of moving to another top flight English club with West Ham revealing their interest - despite admitting that it is unlikely.

"I'm lucky. At the age of 37 I've been offered some quite exciting options and there are a few options on the table," Beckham told reporters.

"I always said I'd struggle to come back and play in England because I've played for the biggest club in the world and biggest club in England - Manchester United.

"So I couldn't see mysel f playing for any other Premier League club, but you never know. I've got options on the table.
"I do think I'll be spending more time in England though and it's good for our kids to see their grandparents.
"Over the last six years it's been difficult not seeing them as much as we'd like and they'd like, but we definitely won't be leaving LA for good."
French outfit Paris Saint-Germain are reportedly also interested in pursuing Beckham, while new QPR boss Harry Redknapp remains an admirer with the pair having worked brief together last January while the midfielder trained at Tottenham.
He added: "What I am touched about is that I've got great managers - Harry and Ancelotti saying great things about me.
"Not saying they would like to sign me but saying nice things about me. It's nice to see them talking about me in such a nice way."