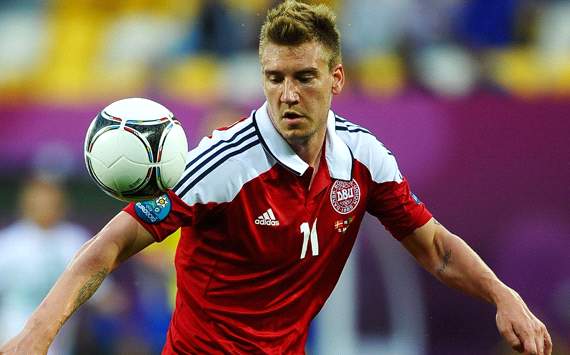 Juventus
forward
Nicklas
Bendtner
has refused to rule out a return to Arsenal, despite another season-long loan away from the Premier League club suggesting he is surplus to requirements.
The 24-year-old is struggling to earn himself a starting role at the
Bianconeri
with only two starts and no goals pointing to another frustrating season ahead for the Denmark international.
However, after two seasons of loan spells at the Sunderland and the Italian giants, it seems the Dane is still undecided over whether his future lies with

Arsene

Wenger's side.
"It's difficult - I feel a lot of things for Arsenal, most good things. I left, not on bad terms but not on great terms," he told
Sky Sports
.
"At the moment, my future is here at

Juventus

. Beyond that, it can lie at Ar senal or elsewhere. It's not 100 per cent decided, but my focus is on

Juventus

."
The Danish striker also spoke of a car crash in September 2009 being a turning point in his life, with the near-death experience helping change his football career around.
"My car crash changed a lot of things," he continued. "It took a long time to get over that. Remember, I had 30 games at

Sunderland

. A lot of things happened for me to be there.
"Now I am where I want to be, at a Champions League club. It requires hard work and I know I need to get more games to achieve success.
"I've had to lose weight. That happens when you don't train for a long time, but I am now perfect weight-wise. I am where I need to be to get regular games," he added.