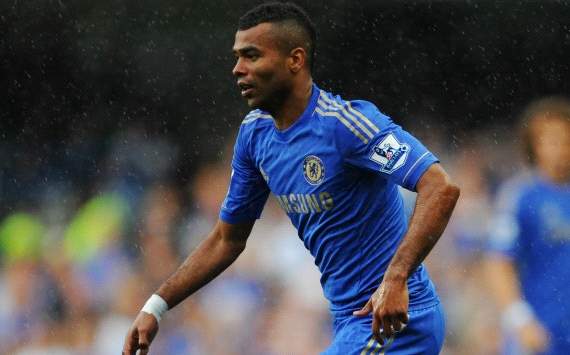 Robert Pires has sensationally claimed Ashley Cole might say yes to a move to Paris Saint-Germain as the Chelsea and England left-back looks to resolve his future.
Pires, a former team-mate of Cole's during their time together at Arsenal, has suggested the 31-year-old is attracted to the project at PSG and is aware that his reputation could draw a lucrative deal from the Qatar-owned French club.
Cole has just seven months remaining on his current contract at Stamford Bridge and, as yet, has failed to negotiate a new deal with the European champions. The full-back has also been at the centre of controversy this season, receiving a 90,000 fine from the FA after the now-infamous BUNCHOFT***S tweet that followed the governing body's decision to punish John Terry in the wake of racism allegations.
But Pires insists it is the complete package that would tempt Cole to move to the French capital, telling
Le 10
Sport:
Paris ma y be of interest for him to all levels - sportingly, financially... It's Paris, it's France... I think he might say yes.
The project of PSG attracts him. I know him well, I'm sure that he is interested. PSG will become one of the biggest clubs in Europe in the coming years, they are trying to get something strong, and he knows it can encourage him to come. There will be a great team and financially it can make a big deal.
Cole is widely recognised as one of the game's best full-backs and his trophy cabinet matches such a reputation. He holds a record seven FA Cup winner's medals, as well as three Premier League titles and one League Cup winner's medal - then last year's remarkable run to Champions League glory added the most coveted club honour to his impressive haul.
But Pires feels that although Cole may be interested in competing for foreign honours, ultimately it will be the financial package that convinces him to move to PSG.
The Frenchman added: "He played in two huge, biggest clubs in England, he won everything. He sees that the PSG is interested in him, he knows that what he [can] get financially at Chelsea, he could have it in Paris. This will attract him, it is obvious."
PSG currently sit atop Ligue 1 with 22 points from their opening 11 games, and are just two points away from ensuring qualification for the Champions League knockout stages. Head coach Carlo Ancelotti is aware of Cole's talent first-hand after managing the Blues for two seasons and claiming the double of Premier League and FA Cup in 2009-10.