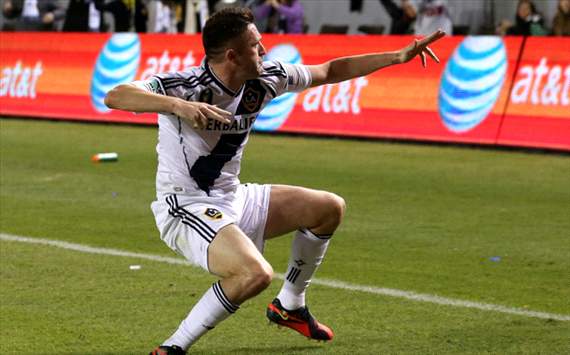 Robbie Keane has signed a "multi-year" contract extension with LA Galaxy after leading the American side to the MLS Cup championship after joining David Beckham's former side in 2011.
The former Liverpool and Tottenham forward is back in training with the White Hart Lane club in order to maintain his fitness levels, but recently quashed rumours of a loan move back to the Premier League.
And Galaxy fans will be delighted that the club has secured their star striker to a new deal after being voted the club's Most Valuable Player of 2012.
"The LA Galaxy announced today that the club has agreed to a multi-year contract extension with forward Robbie Keane," the club revealed on their official website.
"Per club and league policy, details of the contract were not released."
The Republic of Ireland captain bagged 16 goals in 28 games for the club last season, and also set up nine goals for his team-mates as the side won the title by beating Houston Dynamo 3-1 in the playoff final.
Keane spent last January on loan at Premier League side Aston Villa, but despite speculation linking him with Harry Redknapp's QPR he has elected to simply train with Andre Villas-Boas' side to be fully fit for the next season with Galaxy.
The striker has been prolific at international level, scoring 54 times in 122 appearances to lead Ireland's all-time goalscoring charts and has 180 goals in 476 league matches.