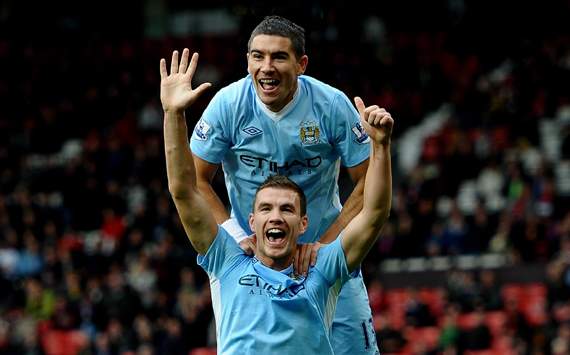 Manchester City striker Edin Dzeko is not ruling out a move away from the Premier League champions.
The 26-year-old says all he can do is perform to the best of his abilities for Roberto Mancinis side but everything else, including his future at the Etihad Stadium, is up to the club.
Dzeko admits that he would be tempted with a move back to Germany, stating he would love to go back there sometime.
Anything is possible, he told the
Sunday Mirror
. I wouldnt rule out leaving now or in the summer, but Im trying not to think about it.
It is up to me to try to use the opportunities I am being given at City everything else is beyond my powers at the moment.
Honestly, Im not thinking about specific clubs now, but I would like to return to Germany.
Its too early to speak about that at the moment. I am a City player right now and I dont see a reason to talk about anything else, but yes, I love the Bunde sliga and would love to go back there sometime.
Dzeko has impressed as a substitute for City this season, scoring six times after coming off the bench, but the former Wolfsburg forward has played down his super-sub tag and admits that team performances fluctuate throughout a match.
People can say whatever they want, Dzeko explained. But Im not a super-sub and I never will be.
Yes, I have scored quite a few goals coming off the bench but when I enter as a sub I dont feel the pressure to score.
Sometimes the team doesnt play very well, or I dont play well because I lack continuity. It can happen and thats all part of football.