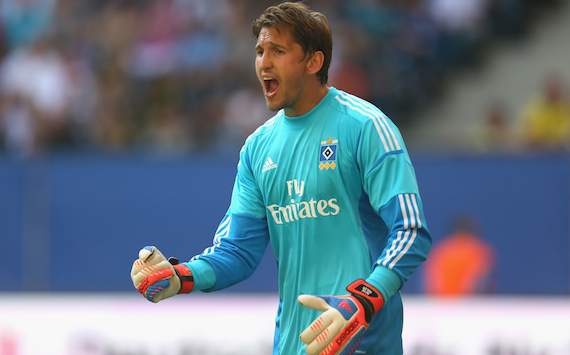 Hamburg keeper Rene Adler has refuted claims that he is pushing for a return to the first-team plans for Germany at the expense of Manuel Neuer.
The 28-year-old has gained a new lease of life after joining Thorsten Fink's men on a free transfer, although he insists he is keeping his feet on the ground at the moment.
"I am very grateful because I feel the affection of the [Hamburg] fans," Adler told
Sport1
. "This has given me a good feeling.
"However, only time will tell if I return to the national team. I have emphasised many times that neither I nor Neuer have put undue pressure in public on the coach [Joachim Low] to be selected.
"He is in favour of competition for all places. I was recently in his plans, and I don't believe it was the last time."
Adler's form, which has seen him only concede 22 goals in the Bundesliga so far, has resulted in him being linked to Barcelona as a replacement for Victor Val des.
But the German refused to respond to the alleged response, replying: "I don't think [of Barcelona] at all."