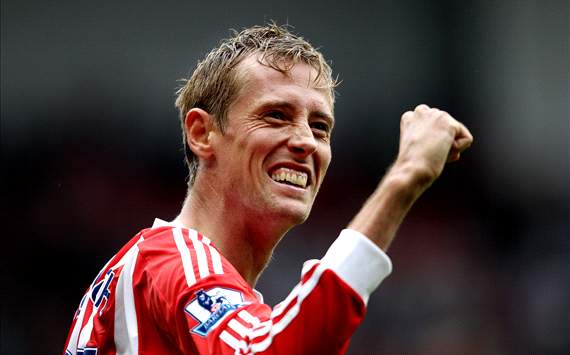 Stoke City boss Tony Pulis admits he would allow striker Peter Crouch to move to QPR before the end of the January transfer window.

Rangers boss Harry Redknapp has made no secret of his interest in the 42-time England international, with the pair working together at Portsmouth, Southampton and Tottenham in the past.
Crouch has struggled for first-team opportunities this season due to injury worries and the form of team-mate Kenwyne Jones, and Pulis has now revealed a return to London could be on the cards for the striker.

Pulis told reporters: "QPR have enquired about Peter, whether we do it or not youll have to wait and see.

"Harrys rung me up and asked me about the possibility, Ive spoken to Peter about it, he knows about it and its up to Peter as to whether he wants to go. Peters very happy here, and hes made that clear.

"Its got to be right for the player, its got to be right for the football club. Th e great thing is that financially we dont have to worry about bringing money in."

However, the deal could be jeopardised by the lack of time left in the transfer window, with Pulis stressing that no transfer would be sanctioned unless the Potters were able to sign a replacement for Crouch.

Pulis continued: "If its right for both parties and the player wants to go then its very difficult not to let the player go, the important thing for me is that if he does want to go its got to be right for us but also weve got to have someone wholl come in and do the same job.

"If the deal was right, Peter wanted to go and everything was in place and we couldnt find a replacement then he wouldnt go because that would put the club at risk, and its too big a season to put the club at risk."