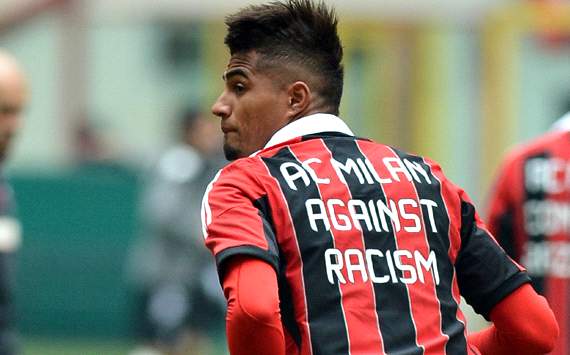 AC Milan vice-president Adriano Galliani has stated that players Kevin-Prince Boateng and Ignazio Abate will not be leaving the club in January transfer window.
There has been much speculation about a possible exit for Abate and Boateng but the Italian has made it clear both players will stay at the club.
Kevin-PrinceBoatengis going nowhere. We want Francesco Lodi, have no interest in MaartenStekelenburg, while we rejected Zenitsoffer forIgnazioAbate, the CEO told Sky Sport Italia.
Boatengis a part of the present and the future of Milan.Galatasaraywere here to talk to us for different reasons.
Nobody has asked us forBoateng and if an offer were to come in, we would sayno.
The Turkish champions were also linked with a move for Luca Antonini, while the Rossoneri were reportedly after Parma defender Cristian Zaccardo, but Galliani feels it is unlikely that any full-backs will be leaving from Milan despite the i nterest from Zenit St Petersburg for Abate.
He added: I dont think Abate andAntoniniwill leave.Zenitmade an offer for Abate, but we rejected it.Cristian Zaccardofrom Parma?Zaccardowill absolutely not joinMilan.