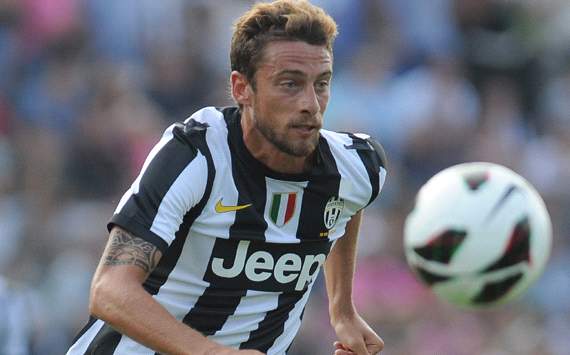 Claudio Marchisio has made it clear that he has no intention of leaving Juventus any time soon as he wants to remain at the same club for the remainder of his career.
The 26-year-old is a product of the Juve youth academy and has developed into a key player at the Serie A champions since his return to Turin after a one-year loan spell at Empoli in 2007-08.
"I am feeling very young and I have an ongoing contract with Juventus. My dream is that when my contract expires in 2016, Juve offer me another five-year deal to keep me here until 2021," Marchisio was quoted as saying by
Tuttosport
.
"People have likened me to Steven Gerrard, and I would love to be identified with only one team just like him."
Juventus' midfield of Andrea Pirlo, Arturo Vidal and Marchisio has been described as one of the best in Europe, but the 28-cap international isn't sure whether they're the absolute best.
"I do not know of many mid fields that are stronger than ours. You could think about Bayern, even though they have a different style of play than us.
"And then there's Spain, which brings forward Barcelona's midfield.
"This Champions League campaign will show where we stand and whether Arturo and I are at that level yet. Andrea has already conquered the world and proven his worth."
Marchisio will be looking to show what he can do on Tuesday, when Juventus host Shakhtar Donetsk in the Champions League.