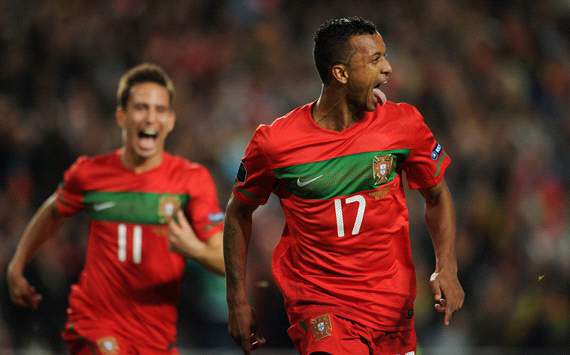 COMMENT
By Kris Voakes Italian Football Writer
AC Milan and Juventus have chased the same transfer target many times before, and will doubtless do so with regularity in the future, but as the two clubs prepare for a potential arm-wrestle over Manchester United winger Nani, they both face a multitude of questions over the Portugueses suitability to their squads.
Goal.com exclusively revealed on Thursday that the race for the wide man is hotting up, and United are looking set to cut their losses on the 25-year-old. With his form not matching that of Ashley Young or Antonio Valencia, his first-team chances have become increasingly rare of late, and his recent training ground bust-up with attacking midfielder Davide Petrucci smacks of a player whose frustrations are spilling over off the field.
Five years on from arriving at Old Trafford, Nani is arguably no closer now to being a first-team regular than he was when he signed in 2007, and as a result theres a very real possibility that one of the Italian giants could swoop. But where would Nani fit best?
At Milanello, much depends on the future of Massimiliano Allegri. The Rossoneri coach has finally begun to show more freedom in his tactical shape of late, and the 4-3-3 in which Nani could be a real weapon was a favourite of his at Cagliari.
Having the ability to play on either wing with a similar output thanks to his two-footedness, the former Sporting Lisbon man has the skills and the deceptive change in pace to cause defenders across Serie A some serious problems. The full-back positions are notoriously short on quality right now across Italys top-flight clubs, and a player of Nanis raw talent may well feel more confident in his ability on the peninsula than in the Premier League.
In the Milan forward line, he could supply the kind of danger which would open up space for Giampaolo Pazzini. The former Inter striker has been largely impotent due to the lack of quality delivery around the final 12 yards since moving across the city in the summer, and the Cape Verde native may be just what Pazzo needs.
However, Nanis wage demands could be a massive sticking point at Via Turati. His current 90,000 (111,000) a week wages would need to be matched at the very least he was said to have asked for 130,000 (160,000) from Zenit St Petersburg in the summer and when taking into account that United would hope to recoup the 20 million (24.6m) they paid for him in 2007, that converts to a potential total cost of 47.6m over the span of a four-year contract.
Would Milan really be ready to commit so much on a player when Thiago Silvas sale saved them just 10.4m more than that? (They made 42m in the Brazilians transfer fee, plus saved four years on his previous contract at 4m a year). He would certainly suit Pazzinis play, but what about Alexandre Patos? Or Stephan El Shaarawys? Or Robinhos? Or Bojan Krkics? Spending nearly 50m on a player to justify a misguided purchase in Pazzini doesnt make sense, especially for a club in such a financial predicament as Milan are in at the moment.
Over at Juventus, there is perhaps more room for manoeuvre. Firstly, they have the money, with the extra revenue streams of Juventus Stadium, which regularly sells out in Serie A, and the return to Champions League football meaning the Bianconeri are positively flush in comparison to Italys other big teams right now.
The Turin club have also been admirers for some time. The first mumblings of an interest in Nani came as long ago as May 2011, when Milos Krasic was struggling in the black and white shirt. Back then, Nani was still confident of attaining regular football with United, and Sir Alex Ferguson wasnt keen to sell. Things are different now though.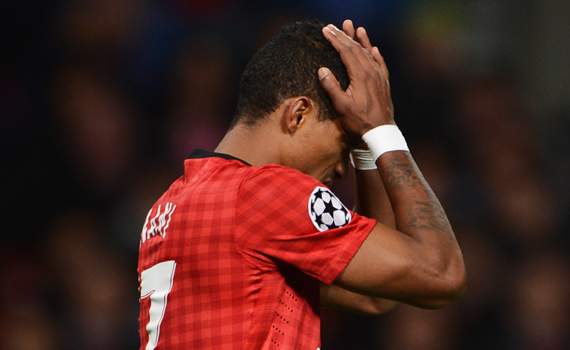 Doing it tough Nani is having trouble at United, but he has the skill set to suit Serie A
Much of Antonio Contes approach is about togetherness, and some of Nanis recent escapades may not fit within his vision. But Arturo Vidal has had trouble with the Chile national team since joining Juve, and Conte has been able to keep him happy. Also, the coach had difficulties with Fabio Quagliarella soon after taking over, but would eventually use the striker at key times in their successful
Scudetto
push last season, proving that he is not necessarily a hard-liner. One may well find that Nanis attitude would change with a regular shirt in any case.
Would he get one? Well, that would likely depend on how the Bianconeris formation evolves. Having originally set up in a 4-2-4 on day one as boss, Conte has since trialled a 4-3-3 and switched to 3- 5-2. But as they take on more and more games, he could well decide to go back to the 4-3-3 to which the vast majority of his squad seem ideally suited.
It is true that a wide man is not Juves priority, with a striker definitely needed and either a left-back or centre-back also high on the agenda, but that doesnt mean he would be a bad purchase. He has proven fleetingly at United in the past that he can usurp full-backs even when given little space in between the lines, and that could happen again if given a fresh start in Turin. Now might be a difficult time, but he undoubtedly has the talent to break out at some point.
Relations between United and Juve are not great as a result of the Paul Pogba stand-off, and that could result in the 19-time English champions playing hardball over a transfer fee, but if the Old Lady can get him at the right price, Nani could be a surprise star for the Scudetto holders.
F ollow Kris Voakes on