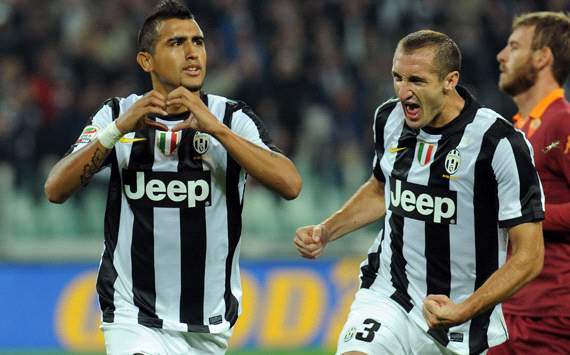 Arturo Vidal has made it clear that he has no intention to leave Juventus any time soon and would be happy to remain with the Italian champions until the end of his career.
The Chile international was being linked with a move to Real Madrid earlier this year, while Manchester City are keen to sign the midfielder, too, as exclusively revealed by
Goal.com
last week.
Nevertheless, the 25-year-old is only thinking about Juventus for now as he is more that happy with life in Turin.
"Ive not thought about trying my luck in England or Spain. I repeat that Im very happy here and if I had to spend the rest of my career here Id do so gladly," he was quoted as saying on the official Fifa website.
Vidal then looked back at his move from Bayer Leverkusen to Juventus in 2011, and stressed that the Bianconeri's success hasn't surprised him.
"When I agreed the move I did so thinking we could turn things around an d fight for the championship, and thats how it turned out.
"It didnt take us long to realise that we were capable of lasting the distance, though I do admit I was surprised we finished unbeaten. The Italian league is very difficult."
The Chile star also took the time to discuss Juventus' chances at silverware this term, and insisted they want to do well in both Serie A and Champions League.
"I think that the players weve brought in this summer make us stronger than we were last season, so were capable of defending the title and having a good Champions League campaign.
"Let me correct myself, at a club like Juventus you have to aim to win every competition."
Juve currently sit joint first in Serie A with 19 points from seven matches.