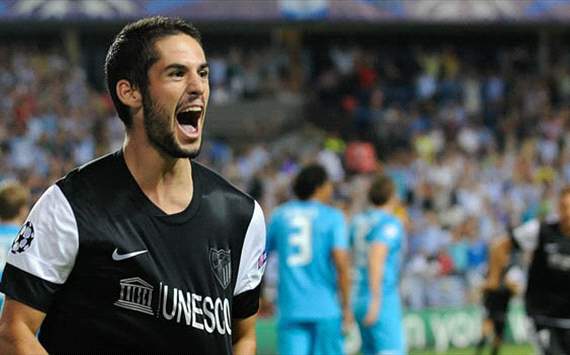 PROFILE
By Ben Hayward
It was a happy homecoming. When Isco returned to local club Malaga in the summer of 2011 for 6 million (4.8m), the young attacking midfielder could hardly believe his luck. And just over a year on, Malaga fans can hardly believe theirs, either.
Isco had featured sparingly at Valencia, scoring twice in a Copa del Rey tie against lowly Logrones but appearing only four times in La Liga in 2010-11. Nothing to write home about. Unusually at the Mestalla outfit, the player was finding opportunities in the first team hard to come by and, even at 19, was frustrated at his lack of game time.
So when Malaga came in and offered to take the youngster back to his Andalusian roots, Isco jumped at the chance. His father (also his representative) was also happy with the move, believing Isco - a shortened form of Francisco (Roman Alarcon Suarez, to give him his full name) - would thrive in his local surround ings.
Having departed his home town, the beach resort of Benalmadena, in 2006, Isco was thrilled to be back among his friends and family once again. And he has never looked back since. If midfielder Santi Cazorla was the talisman last term as Malaga qualified for the Champions League for the first time in their history, Isco was the local hero.
He hit five goals in 35 league appearances in his first full season but, since the departure of Cazorla to Arsenal in the summer, has stepped out of the shadows of the former Villarreal man - and into the limelight.
Isco was one of the brighter lights in a disappointing Spain side at the London Olympics, meaning he has now represented his country over 50 times at all levels, from Under-16 to U-23. So he is hardly a secret any more.
There was significant interest in the youngster over the summer but Malaga, despite several sales and well-documented financial problems, were determined to hang on to their young star, reportedly rebuffing offers from Anzhi, Tottenham and even Barcelona.
Three goals in nine appearances already this term, including two superb strikes in a wonderful win in the club's Champions League debut against Zenit, have alerted Europe's elite and it seems only a matter of time before Isco does move on.
However, the player's father is keen for his prodigy to keep his feet firmly on the ground for now, believing Malaga remains the best place for the player to continue his development. At 20 years old, he has already drawn comparisons with legends like Roberto Baggio and Alessandro Del Piero - due to his silky skills, dribbling and ability to score outrageous goals - and his step up to Spain's senior side surely is not far away.
"We are watching Isco and we hold him in high esteem," Vicente del Bosque commented several months back. "But he has a lot of competitors in his position."
At this rate, howeve r, we won't have to wait long before his full debut with La Roja.
Whether he will still be a Malaga player, however, is another matter. His current release clause is set at an affordable 21 million (16.9m) and rises by a million each year until his contract ends in 2016. Quite a few clubs in Europe are in a position to pay such a sum, with both Barca and Real Madrid likely to be among them - as well as several sides from the Premier League.
Indeed,
Goal.com
has learned that Manchester City have made a move for Isco a priority, ahead of other targets Radamel Falcao and Stevan Jovetic, and are keen to swoop for the young star in January
But they may have to wait. After the win against Zenit, Isco tweeted: "Incredible, I could not be more proud of the team. We have to keep working harder than ever to carry on enjoying something so magnificent."
And Malaga fans will hope their club can work behind the scenes to ensure that they, too, continue to enjoy the magnificence of Isco for some time to come.
Either way, time is on his side. Not 21 until April, Isco is already lighting up La Liga and looks every bit like Spain's newest sensation. Malaga, meanwhile, acted quickly and impressively to sign him last year, and are currently very lucky to have him. At least for now.
Follow Ben Hayward on