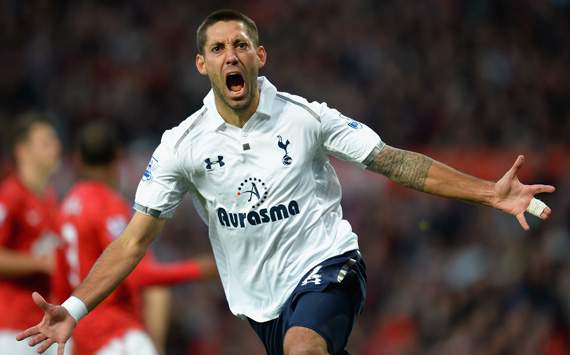 By Wayne Veysey Chief Correspondent
TOTTENHAM OUTBID LIVERPOOL FOR DEMPSEY BY 4.5M

Tottenham provided a full stop to the fraught final chapter of Clint Dempseys Fulham career by signing the American in the final minutes of the summer window.
Dempsey was finally registered as a Spurs player after the Londoners agreed to pay 4.5 million more for him than Liverpool on a whirlwind deadline day in which three clubs submitted formal bids for a player who had been exiled at Craven Cottage.
The Sweeper
can reveal that Spurs signed Dempsey in a deal worth 7.5m, made up of a 5m payment up front supplemented by a further staggered 2.5m, subject to appearances.
This fee comfortably exceeded the bid made earlier in the day by Liverpool, who had pursued Dempsey all summer but eventually offered a relatively meagre 3m.
Even Aston Villa had been far more purposeful than the Merseysiders as they sensed a late opportunity to end the rift between Dempsey and Fulham by making a bid less than 24 hours before the end of the window.
The offer, believed to be a 5m down-payment supplemented by 2m in add-ons, was accepted by the Cottagers. Dempsey, however, rejected the move.
With the American on the brink and Liverpool and Fulham locked in stalemate, Tottenham came to the rescue with a more substantial offer just as the sun was beginning to set on deadline day.
GIBBS NOT FIT FOR QPR CLASH
A thigh injury will keep Kieran Gibbs out of the Arsenal team for the third consecutive match against QPR on Saturday afternoon.
However,
The Sweeper
has learned that the left-backs latest spell on the sidelines has b een born out of the clubs desire to manage his workload rather than any serious injury.
Up until this season, the 23-year-old required injections before every match to treat a long-standing hernia problem, a situation that continued even after he had surgery last autumn.
It is understood that Gibbs no longer requires injections to play but Arsenal are wary of overloading a player who has been plagued by injury since breaking into the first team as an 18-year-old.
Although the England international took part in full training on Thursday and, then, had a light session on Friday, he is not yet available for selection.
ROVERS RETURN FOR KEAN?
Blackburn Rovers turned their attention during the week to prising Billy McKinlay from Fulham after failing in their attempt to land No.1 target Tim Sherwood as their new manager.
Intriguingly,
The Sweeper
unde rstands that McKinlay, the Fulham first-team coach who spent five years at Rovers as a player, is close friends with fellow Scot Steve Kean, who was forced out as manager last month.
This association, prompted by the satirical suggestion that McKinlay might want Kean on his Rovers backroom staff, led to opposition from Blackburn fans to his appointment.
As a result, both McKinlay and Rovers chiefs got cold feet, even though the club had been close to agreeing a compensation package with Fulham for the 43-year-old former midfielder, who was keen for his first crack at management.
DOUGIE FREED TWO WEEKS AFTER FIRST BOLTON APPROACH
Dougie Freedman finally took charge at Bolton Wanderers on Thursday, three days after being given permission to speak to the Lancashire club by Crystal Palace.
The Sweeper
has learned that Boltons pursuit of the Scot began long bef ore the recently demoted Premier League club made their interest official on Monday.
Intermediaries representing Bolton first made contact with the former striker 10 days before the approach, making it clear that the clubs resources and budget made the top flight a more realistic prospect than it was at Selhurst Park.