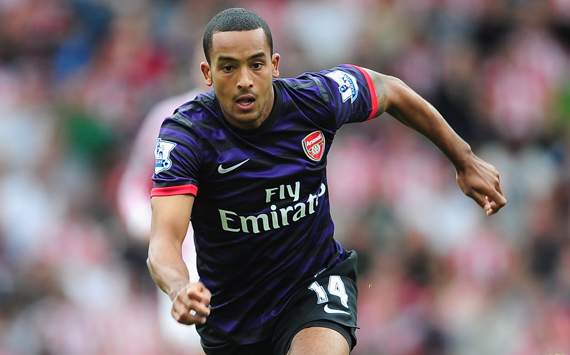 COMMENT
By Wayne Veysey Chief Correspondent
When Peter Hill-Wood tried to explain why Arsenal handed chief executive Ivan Gazidis a 35 per cent pay rise last season to inflate his salary package to 2.14 million-a-year, the chairmans response was telling.
Gazids, Hill-Wood told shareholders at a feisty AGM, had overseen an extremely good year and his deal had been benchmarked against industry competitors.
Few could blame Theo Walcott and his advisers for quoting those words back at senior Arsenal figures when a final attempt is made next month to break the contract stand-off between the player and the club.
It is inconsistency on a grand scale to have one rule for one board member and another entirely for the playing staff.
How Hill-Wood and the remuneration committee concluded that Arsenals 2011-12 financial year was so impressive when revenues remained flat and the club continued to rely o n Arsene Wengers transfer wheeler-dealing for its healthy profit surplus is unclear.
It is not too hard to imagine gin being spluttered around the boardroom when word reached the septuagenarian-dominated directorship that Manchester City had offered Robin van Persie a 300,000-a-week salary to stop him joining Manchester United.
Yet, is Walcott being so unreasonable in his request for a 40 per cent upgrade on his current 60,000-a-week contract?
If we are to use the Hill-Wood rule of thumb from which Gazidis benefited so handsomely, the answer is no.
Measured against his fellow England regulars, Walcotts stance is perfectly valid. The forward need only glance around at second and third tier internationals like James Milner, Gareth Barry, Glen Johnson, Frank Lampard, Joleon Lescott, Gary Cahill and Andy Carroll (who all earn six-figure salaries per week or more) to gain an appreciation of his market value.
Like these co lleagues, Walcott has not produced the goods consistently on the international scene for an extended period.
But he is not asking to be parachuted into the top tier of earners with English passports, such as Wayne Rooney, Steven Gerrard, Ashley Cole, John Terry and Joe Hart.
Instead, he wants what he feels he is worth. This comes after Walcott established himself as an undisputed first-team regular last season, starting 29 of Arsenals 32 first Premier League matches before succumbing to the kind of injury that has pockmarked his career.
He finished as the clubs second leading scorer behind Robin van Persie in a season which yielded a personal-best 11 goals in all competitions. Even this season, in which he has only started two matches for his club, Walcott has plundered four goals.
By running down his Arsenal contract to the last eight months without reaching a breakthrough in talks, Walcott has manoeuvred himself into a strong ne gotiating position.
Admirers at home and abroad are fluttering their eyelashes, most notably Serie A champions Juventus and striker-starved Liverpool.
They recognise that Walcott could be something of a bargain in January, when 100,000-a-week wages may not appear so outrageous if the transfer fee is less than 10m.
The 23-year-old will be committing his prime years to the employers whose headed paper will bear his next signature.
It may be a frustration that Arsenals three chief Champions League rivals Chelsea and the two Manchester clubs are not at the head of the queue to sign him.
In any case, Walcott was unsure about whether to go to Man City in the summer when the Premier League champions floated their interest in the last week of the window.
Liverpool, the club he supported as a boy, represents a more realistic avenue, despite Wengers reluctance to sell him to a Premier League big-hitter. Juventus r epresent nothing more than a useful back-up option at this stage, given that Walcott is settled in England and is not sure if the time is right to move overseas.
He is being genuine when he says he wants to come to an agreement with Arsenal and stay. Walcott is a popular member of the squad, respected and liked by the players as well as the staff.
Clouding the issue are the contrasting views of Wenger and Walcott on the forwards role in the team. As one source close to both men said: Theo sees himself as a creative player who can play anywhere across the front three. Wenger does not see it the same way. He sees him as an impact player out wide who can unsettle the opposition over 60 minutes or come off the bench for the last half-hour and change a game.
By asking for the twin towers of a 100,000-a-week salary and a centre-forward role, some Arsenal observers may sniff that the club would be better off cutting their losses on Walcott and conce ntrate on sourcing a blue-chip replacement.
Yet Arsenal already have cash swilling around the club coffers. An estimated 50m is available for transfers next year.
If Walcott was to follow Van Persie, Alex Song, Cesc Fabregas, Samir Nasri and Gael Clichy as another A-list departure over the last 18 months, the ambition of the board will once again be called loudly into question.
It should be noted that Arsenals wage bill was 143m in 2011-12. Surely, it would make sense to offer Walcott around three per cent of that annual sum and make the clubs salary structure a little less egalitarian.
Follow Wayne Veysey on