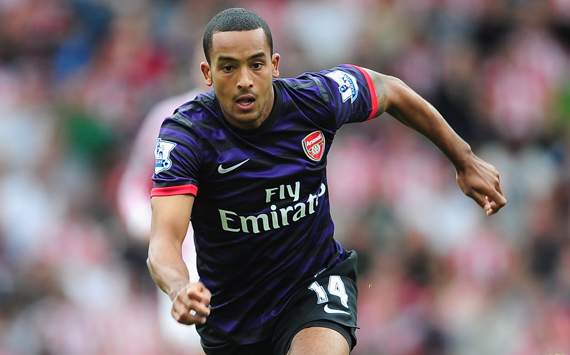 WENGER HAS CONCERNS ABOUT WALCOTT LONGEVITY
The Arsenal future of Theo Walcott remains up in the air with no breakthrough in the contract stalemate that has dragged on in to the last nine months of his deal.
Arsene Wenger urged the forward to be patient after he indicated this week his plans may rest on whether he plays in the centre-forward role that he has coveted since joining the club as a 16-year-old.
The Sweeper
understands that, privately, Wenger has concerns about the longevity of a player who has been plagued by injury during his seven years at Emirates Stadium.
The Frenchman is believed to have expressed reservations about Walcotts capability of playing regularly beyond his late 20s for a top Premier League club because of the demands on his body.
The 23-year-old has inherited a congenital fault from his father Don, which means the shoulder ligaments are too slack, and this has affected his ability to withstand the physical rigours of the English top tier.
The winger established himself as an undisputed first-team regular last season, starting 29 of Arsenals 32 first Premier League matches and only succumbing to injury in the final weeks of the season when he tore his hamstring.
Although he scored twice for Arsenal in the 6-1 League Cup win over Coventry he has had to put up with bit-part role in the league this season.
Although Wenger is genuine when he says he wants to keep Walcott and, in turn, the player has a real affection for the club, those close to the situation believe the England international might be best served by a move to the Continent next summer.
Walcott can sign a pre-contract with a European club in January and then leave Arsenal on a free transfer at the en d of the season.
- Wayne Veysey UK Correspondent
MARTINEZ PLAYS GOOD COP
Roberto Martinez has a strategy for dealing with unruly players at Wigan Athletic in the shape of his no-nonsense No.2.
The Sweeper
has learned that the Spaniards style is to simply give the cold shoulder to players who fail to meet the precise disciplinary guidelines he lays down at the Latics.
Trouble-makers are said to be dealt with by his long-serving sidekick Graeme Jones, the former striker who spent his playing career in the lower echelons of the game.
The Wigan assistant manager, 42, held talks with Swansea City about succeeding Brendan Rodgers in the summer but negotiations broke down and he continued an alliance with Martinez that stretches back five years.
- Wayne Veysey UK Correspondent
TERRY SET TO TAKE FINANCIAL HIT
John Terry could take a huge financial hit through loss of sponsorship agreements after being found guilty by the FA of using racially abusive language towards Anton Ferdinand, says a leading sports lawyer.
Terry was banned for four matches and fined 220,000 for the incident, having been cleared in a criminal trial at Westminster magistrates court in July.
Daniel Draper, sports lawyer at Farleys Solicitors in Manchester, says that sponsors could activate clauses in Terrys endorsement contracts to drop him as an ambassador, while the guilty verdict make him toxic for brands.
The wider effect on Terrys commercial potential off the field is really set to suffer, said Draper.
The sponsorship, promotional work and ultimately his long-term plans for telev ision or coaching work once his playing days are over could all be jeopardised as a result of the FAs verdict. Being tarred with the stigma this charge could create will significantly curtail Terrys options.
It goes without saying that any brand that is looking for brand ambassadors in the future would want to avoid association with someone who has been publicly branded a racist.
Furthermore, it is commonplace for any sponsorship or endorsement agreement to include a clause that in the event of the misbehaviour of a player, they can invoke a right to bring the agreement to an end. Reports are that Terry has already been dropped by his former boot sponsor Umbro this season, at a reported financial loss of 4 million per year.
This is surely only the tip of the iceberg for a player of Terrys standing, and any sponsor involved with him will most likely be dusting off their agreements as we speak; turning straight to the termination provisions se ction.
- Greg Stobart Correspondent
MAN CITY INJURY WOES BUILD UP
Manchester City were dumped out of the League Cup in midweek at home to Aston Villa after manager Roberto Mancini was forced into a last-minute reshuffle of his plans.
Midfielder Jack Rodwell was in line to start the match but pulled out at the very last minute, which could be a matter of concern for the Premier League champions given his history of injury problems.
Another summer signing, Brazilian full-back Maicon, is also suffering with a troublesome ankle injury connected to the hamstring issue that caused him problems while at Inter.
- Greg Stobart Correspondent