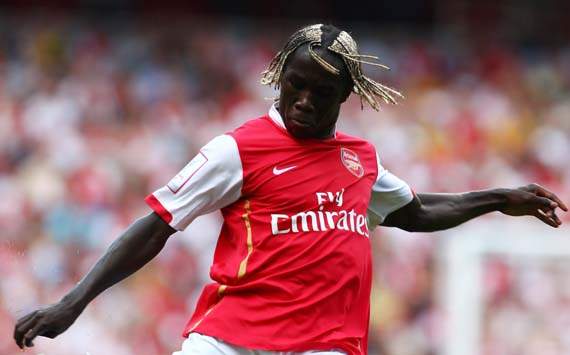 COMMENT
By James Goldman
Bacary Sagnas unusually outspoken comments about the sales of Robin van Persie and Alex Song might have been ill-timed, his frustration, however, is understandable.
As the sun was setting on a comprehensive and uplifting victory over Liverpool on Sunday, Arsenals erstwhile captain dealt a brutal, sobering reminder of the qualities Arsene Wengers new-look side lack.
Arsenal should be numb to it by now, their ability to self-harm unrivalled, but events on the south coast, coming so soon after their Mersey romp, were particularly difficult to stomach.
The comforting glow that accompanied seeing two summer recruits open their account at one of English footballs most iconic venues was tainted by the sight of their former talisman being welcomed to the collective bosom of Manchester Uniteds travelling army.
Arsenals seven-year glitch, the inexorable, painstaking wait for a trophy, has been characterised by near misses and errors of the clubs own making. None could turn out to be more damaging than the sale of Van Persie to Old Trafford for that reason alone you can comprehend the despair expressed by loyal Wenger foot soldiers such as Sagna.
Van Persies goalscoring ability, harnessed alongside the talents of Lukas Podolski, Santi Cazorla, allied to the new-found defensive rigidity and the cherry on the cake, Jack Wilsheres impending return, spell out the ingredients of a side capable of challenging the Manchester elite and recently crowned European champions from west London.
Such a mouth-watering combination was, and never will be, an option while Arsenal commendably look to put financial prudence above a do whatever it takes pursuit of glory, but surely an exception could have been made in the case of Van Persie.
It is too early to judge Olivier Grioud, although ghastly misses against Sunderland and Liverpool hardly inspire confidence that he will be more Van Persie than Chamakh, but an argument could be made that had Arsenal taken a hard-line stance with the Dutchman they would now sit eight points ahead of United after only three games.
And therein lies the frustration. Nearly men, content with a form of upper-class mediocrity, Arsenal continue to paint failure as success and unnecessarily handicap themselves. After his infamously ill-thought statement many argued Van Persie rendered his position at Arsenal untenable. Not so.
His behaviour was no more despicable than the conduct of Carlos Tevez, who went from hero to mercenary and back again in the space of 12 months. Football fans are fickle and reactionary. Despite his wounding words, Wenger and Arsenal know theyd still be a stronger force for his presence.
"When your two best players go, you ask questions. Fans come up to you in the street and I understand their frustration. Like t hem, I don't understand everything."
Sagna, was of course, also referring to the departure of Alex Song, whose sale was as swift and surprising as the way in which the hole he left behind has been plugged.
In that respect Wenger is a magician. Constantly reinventing his side and the tools he has at his disposal. Abou Diaby has already shown himself to be an adept, multi-faceted, substitute for the undisciplined Song, while Mikel Arteta has also adjusted and adapted to the demands of his new role.
There is no way, however, of conjuring 30 Premier League goals from an inferior striker. Arsenal are again tantalisingly close but, one suspects, still frustratingly far.
"In May, I watched Manchester City's parade on TV. I saw Samir and Gael lift the trophy. I want that," Sagna told L'Equipe.
While Arsenal continue to operate in a way that others either cannot, or will not, Sagna will in all likelihood be forced to look rath er than touch tangible success again come May.
Follow James Goldman on