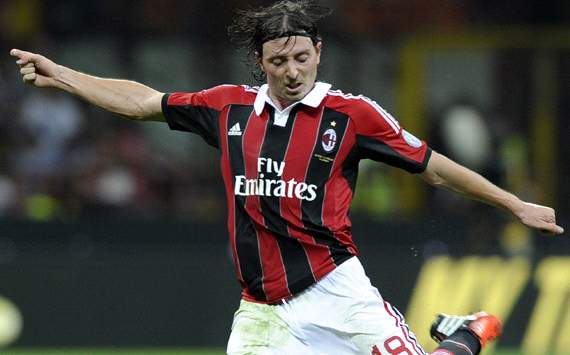 Riccardo Montolivo is determined to make an impact at AC Milan and aims to emulate Andrea Pirlo at the San Siro outfit.
The latter left the
Rossoneri
for Juventus in the summer of 2011 after a 10-year spell at the club, and the former Fiorentina man feels it is up to him to make the Milan fans forgot about the illustrious playmaker.
"Whether Im here to replace Pirlo? Yes thats what Im here for," Montolivo was quoted as saying by
La Gazzetta dello Sport
.
"Its useless to pretend like I dont hear about the comparisons with Pirlo. But its better to demonstrate on the pitch that the critics are wrong, than do it by just talking."
The midfielder then went on to stress that he is not a
trequartista
, and added that his versatility has occasionally hindered him.
"Lets put an end to this discussion: I'm not a
trequartista
. Im not a No.10. I want to be remembered as a complete midfielder w ho knew how to defend, lead and attack.
"Its an advantage to be a versatile player, but on the other hand its a reason why people only consider me as half a player. Ive paid dearly for my adaptability to play different roles:
regista, mezzala, trequartista
."
Montolivo is currently sidelined with a muscular problem.