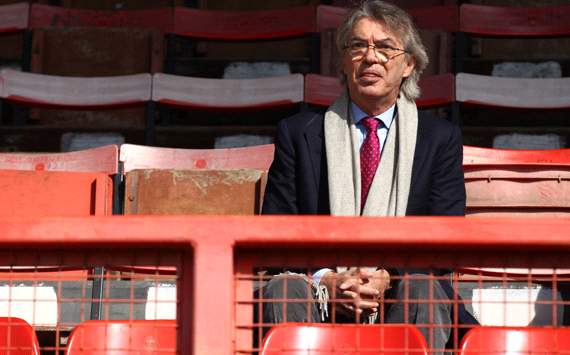 Massimo Moratti says Inter will not be making any major purchases in January, as the club's new vision advocates sound financial management and the development of youth.
The Nerazzurri have made an inconsistent start to the Serie A season, winning all of their away games but failing to pick up points at home, and unlike in previous years, the supremo will not be sanctioning any significant buys midway through the campaign.
"Inter will continue with the model that is based on sound management and the development of youth," Moratti told reporters following a meeting with the board.
There can be slight improvements, but a club has to pay attention to finances and balancing the books for both the Financial Fair Play rules and the sake of responsibility.
I think we have something important growing in this squad and a youth academy that continues to bring us quality players. It is a policy that contrasts greatly of the Inter in ye ars gone by, when major signings were made frequently.
"Should we all forget the type of investment we once made on Christian Vieri? Absolutely yes. At that time we got it all wrong."

Moratti then discussed tactics and offered support to coach Andrea Stramaccioni, who switched to a 3-5-2 formation against Chievo on Wednesday with immediate results, as Inter recorded a 2-0 victory.
The important thing is that there is enthusiasm within the squad. We are only here to support them, he continued.

Any combination of players is fine as long as the mechanism works. Whats really important is that [the tactics] work for the team and the coach, as it can give them a sense of certainty during games.
Its not that only one tactic exists and the others are failures. It all depends on the players you have at that moment. Right now, it is useful to use a three-man defence."
The oil-magnate was then asked about Antonio Cassano, who arrived from AC Milan in the summer and got back on the scoring trail against the Flying Donkeys, and he had nothing but praise for the Italy international.
[Antonio] Cassano is bringing a great deal to the table, not just on the field but also in terms of his relationship with the coach and his team-mates. When I say he is wise now, he is certainly proving me right.
Inter are due to host Fiorentina in the next match, and while his side have not won at home this season, Moratti is confident his team will put on a good show, though he admitted it will be a tough game.
In my view, they [Fiorentina] are the best team Ive seen play so far this season. They put in a great performance against Juventus and its going to be very difficult, but well make it hard for the m too," he concluded.