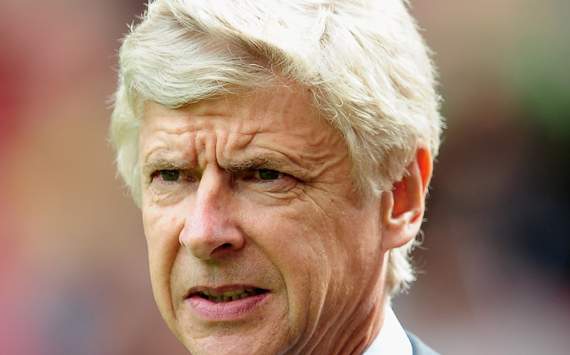 Arsenal manager Arsene Wenger has revealed that he expects to add to his squad before the end of the summer transfer window.
The Gunners failed to find the net for the second week running in the Premier League as they were held to a 0-0 draw against Stoke City.
The French manager admitted that he is open to the idea of boosting his ranks following the departure of Robin van Persie, but indicated that he is unlikely to move for a defensive midfielder despite the sale of Alex Song.
"I'm pleased with what I have but yes, I anticipate doing something still, we're still in the market," Wenger told
Sky Sports
. "Defensive midfielders we have.
"I don't know yet, it depends on the quality of players that are available, it's not necessity. If we find someone who can strengthen our squad with the quality that we want we'll do it in any position."
Wenger admitted his frustration at his side's failure to make their po ssession count at the Britannia Stadium but pointed out that the problem may have something to do with the amount of new players in his team.
"Overall I feel we had a solid performance, we were not in trouble defensively," he claimed. "We created some chances that we couldn't take, at the moment we're not taking our chances.
"But it was a solid game with a dominant spirit and overall I believe there are a lot positives but the negatives are that we couldn't score, now for two games.
"I believe we can't because we have a lot of new players, trying to find each other in the final third and it might take a little bit more time.
"Our overall organisational and technical effort was good. We missed the beat in the final third, in the adjustment of our passing and the spontaneous way to take our chances. It's not completely automatic and we still have some work but there are a lot of positives.
"We did some homework and overal l we did very well. Diaby had a good protecting role in midfield, he did that very well. Our back four did well, our keeper did well although we did have worries of what they could do to us, they're a handful for anybody that comes here."
Pressure has been placed on new acquisition Olivier Giroud, who is yet to find the target for the Gunners and started following the sale of Van Persie, but Wenger believes that the Frenchman will get off the mark before long.
"I believe he tried, he hit it quite well," Wenger said of the striker's late chance from distance. "It was a good moment to win this game 1-0 that I think we deserved but overall it's quite positive.
"Of course, the longer it lasts the more doubt creeps in to the head of the striker but I think it will come."