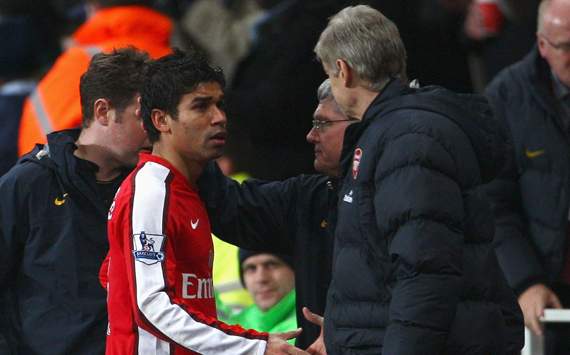 Former Arsenal striker Eduardo has described the club's decision to sell Robin van Persie and Alex Song as a "big mistake".
The Gunners recently allowed last season's Premier League top scorer to join Manchester United for 24 million, before sanctioning Song's 15m switch to Barcelona.
But the Croatian, who spent three years with the north London club before a serious ankle injury saw him lose form and fitness prior to a move to his current club, Shakhtar Donetsk, is confident that they will remain a top side.
"It is a big mistake to sell them - they were the most important players last season," Eduardo told
BBC Sport
. "But they have other quality players to stay as a big club at the top.
"Van Persie and Song were the key players last season - they held the team. When you lose two players like that, your chance of finishing in the top four is less.
"But Arsenal still have a good team and I'm confident they will do well. Last year when they lost Nasri and Fabregas, everyone thought they would not finish in the top four but they did.
"When the season finishes, we'll see if it was a mistake or not. It's very sad to lose two big players like that but we must respect the new players and believe they can keep Arsenal at the top."
Despite his insistence that Arsenal will not fall down the league, the Brazil-born striker went on to claim that their chances of reclaiming the Premier League title are slim due to their policy of selling players.
"Every player comes to Arsenal as a simple player and Arsenal make them into a big player, but they can't keep everyone together to fight for titles," he added.
"Every year it's similar - they lose players, buy players, make them class players and the next year they sell again. They are always in the same place."
The 29-year-old also expressed his desire to play in the Premier Leag ue again one day, hinting that he would jump at the chance to return to the Gunners.
"It would be nice if they wanted me to join again, but it's not the kind of thing I'm thinking about," he continued.
"If I played for Arsenal now I could score some important goals from nothing - in games like Sunderland, when it's 0-0 and you score the only goal. My studying of the game is like that.
"I can give you a lot of important points. I think Arsenal are missing some players like that. You never know. When you've played in the Premier League, you sometimes miss the atmosphere in the stadiums and the playing style. I miss this and hope one day I will come back."