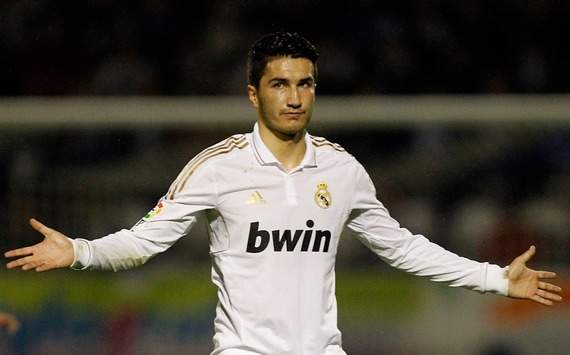 Real Madrid boss Jose Mourinho has admitted he expects Nuri Sahin to join a Premier League club before the close of the transfer window but has remained noncommittal on the futures of Ricardo Carvalho and Kaka.
Turkish midfielder Sahin has been strongly linked with a loan move to both Liverpool and Arsenal but could yet be used as a makeweight in the deal for Tottenham playmaker Luka Modric.
But, amidst suggestions that the Portuguese boss was eager not to allow Sahin to join a Champions League rival, Mourinho has insisted he does not care where the midfielder ends up.
I want him to play, for him to go somewhere to play. The Premier League could teach him new aspects of his game but I dont mind where he goes, he told reporters.
Its not at all true that theres any one club to which I would prefer that he went. It doesnt matter to me, I just hope that its sorted for him soon.
Its absolutely fine with me whether he g oes to Arsenal, Liverpool or Tottenham.
Mourinho also revealed open to offers for Brazilian playmaker Kaka, though the former AC Milan man has received considerably less interest than Sahin.
Theyre different situations with Nuri there are several options but nobody has made an official bid for Kaka like they have for Nuri," he continued.
Another player reportedly bound for the Premier League is Ricardo Carvalho, but Mourinho insists that he is unaware of any bid from QPR for the Portuguese centre-back, nor does he anticipate Mark Hughes needing both Carvalho and Michael Dawson.
I cant confirm anything with QPR, Mourinho added. I dont even know if the information is correct or not because theyve told me that Dawson has signed for QPR for 9 million if theyve signed Dawson, I dont know if theyll be interested in Carvalho.