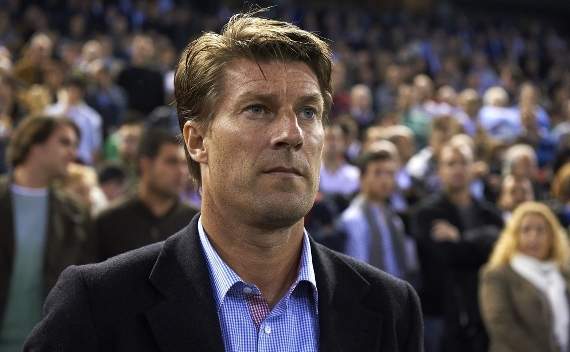 Swansea City bossMichael Laudrup is confident of completing the signing of Celtic midfielder Ki Sung-Yueng this week and remains hopeful of bringing in Pablo Hernandez from Valencia.
Ki, who helped South Korea to a bronze medal at the Olympics this summer, is close to sealing a move to south Wales after a 6 million deal for his services was finalised.
And Laudrup hailed the 23-year-old, expressing his belief that Ki will provide a solution to the problems raised by Joe Allen's recent departure.
"The contract is not signed yet. I would like to wait before everything is signed and sealed but the deal should go through, he is an important player for us to have in the midfield, Laudrup told reporters.
"We have lost Joe Allen so it is important for the strength of the squad to have a player like that, if we sign him then we'll all be happy.
"He's a very dynamic player and, like the players we have signed and those we w ill sign, he can fit into our style.
"He has already played a couple of seasons in British football, which is important.
"The players we have brought in from abroad have made a great start, but to have experience of the British style of football is important."
The Dane went on to express his confidence that a deal can still be done for Spanish forward Hernandez, after an initial offer of 4m was turned down by Valencia.
"We still have eight days [to complete a deal]," he continued.
"It is always nice to hear players want to come here or play for a manager, but we will leave these things until after Saturday's game against West Ham because the most important players are the ones that are here, not the ones who could come or leave, that's why we must focus on the game."
Laudrup also remained cagey on the future of winger Scott Sinclair, who is a reported target for Manchester City and remained on the bench during Saturday's 5-0 win over QPR.
"What will happen in next week I don't know, we will see, he said on the matter.
"The fact he wasn't in the starting XI was nothing to do with the interest from Man City, it was because Wayne Routledge and Nathan Dyer were here from the start of pre-season and know exactly what I want them to do with or without the ball. Scott had only been here for nine or 10 days.
"We will have to see what happens now, a deal might not happen until next Friday evening perhaps, he continued.
"But he is 100 per cent committed while he is here and that's important for me as a manager."